Chennai Super Kings (CSK): Ruturaj Gaikwad – Indian Cricketer
Ruturaj Gaikwad Indian Cricketer, CSK Team Player in IPL T20 League: Ruturaj Dashrat Gaikwad (born 31 January 1997) is an Indian cricketer. He made his international debut for the India cricket team in July 2021. IPL2022 Retention
Ruturaj Gaikwad: Indian Cricketer | IPL Players | CSK Team Mate | IPL 2022 Retention Player | Opener CSK
Ruturaj Gaikwad Indian Cricketer, CSK Team Player in IPL T20 League: Ruturaj Dashrat Gaikwad (born 31 January 1997) is an Indian cricketer. He made his international debut for the India cricket team in July 2021.
In December 2018, he was bought by the Chennai Super Kings (CSK) in the player auction for the 2019 Indian Premier League. In June 2019, he scored 187 not out for India A against Sri Lanka A. In August 2019, he was named in the India Blue team's squad for the 2019–20 Duleep Trophy. In October 2019, he was named in India B's squad for the 2019–20 Deodhar Trophy. In August 2020, Gaikwad tested positive for COVID-19 before the start of the 2020 Indian Premier League.
Ruturaj Gaikwad – The Roar of King & stealing our Heart | One Man Army of CSK Today | Happy Birthday
In June 2021, he was named in India's One Day International (ODI) and Twenty20 International (T20I) squads for their series against Sri Lanka. He made his T20I debut on 28 July 2021, for India against Sri Lanka.
Read More: One Man Army – Ruturaj Gaikwad
TEAMS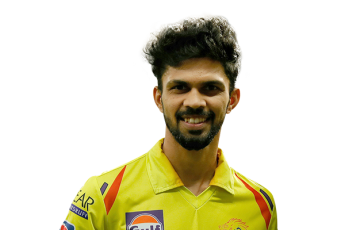 T20I MatchesView T20I Records
Debut
Sri Lanka vs India at Colombo (RPS) – July 28, 2021LastSri Lanka vs India at Colombo (RPS) – July 29, 2021
FC Matches
Debut
Maharashtra vs Jharkhand at Delhi – October 06 – 09, 2016LastMaharashtra vs Uttarakhand at Baramati – February 12 – 15, 2020
List A Matches
Debut
Maharashtra vs H. Pradesh at Cuttack – February 25, 2017LastMaharashtra vs Puducherry at Jaipur – March 01, 2021
T20 Matches
Debut
Maharashtra vs Mumbai at Vadodara – February 02, 2017LastSuper Kings vs Mum Indians at Dubai (DSC) – September 19, 2021
---