Highlights, India vs England 4th Test at Oval : India Playing Test Day 3 and Good opening partnership by Rohit and Rahul Put England under Pressure. Rahul lost his wicket at 46 Runs and Pujara with good start with Rohit as a Best cricket class test in England.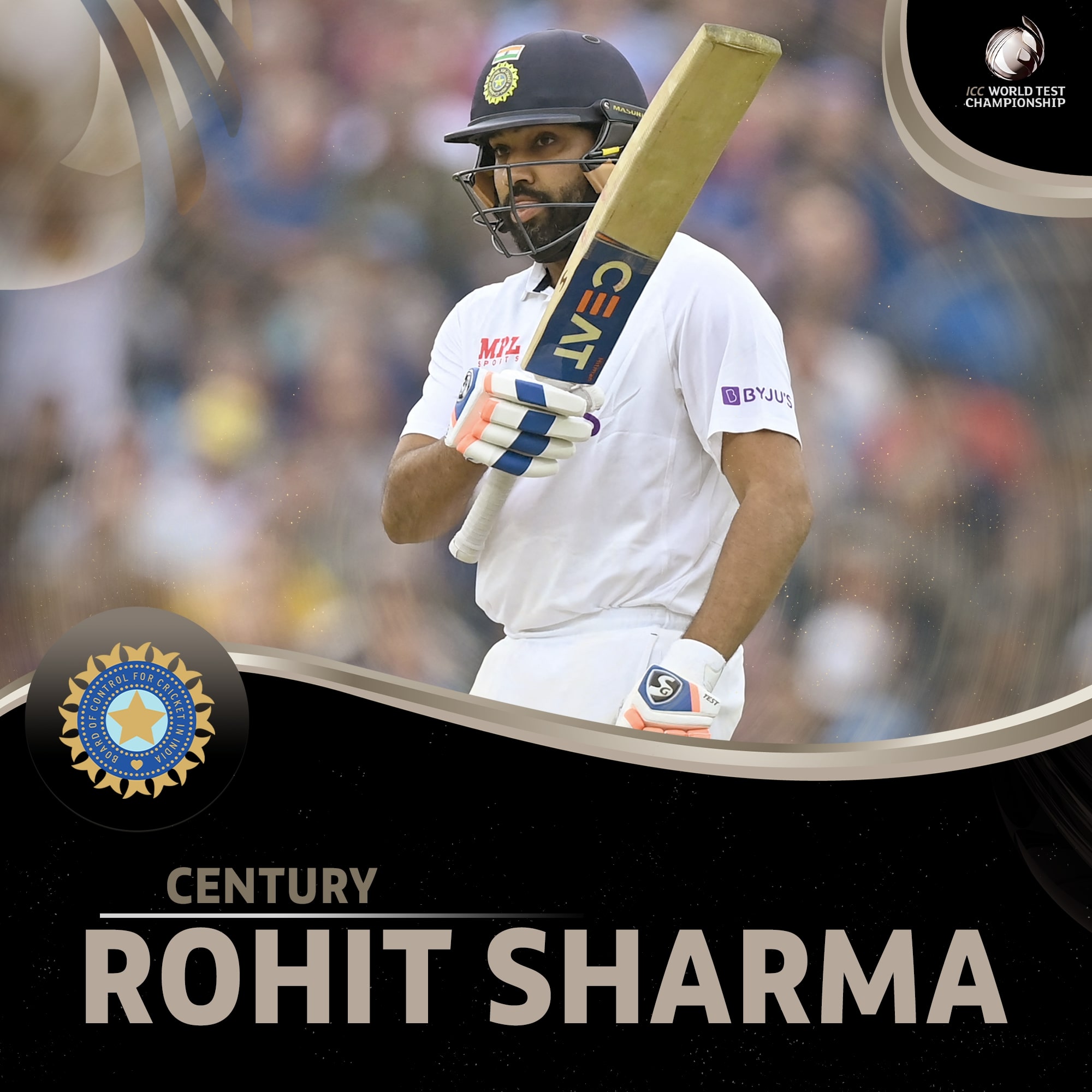 Rohit Sharma Century Highlights: Rohit Sharma's first overseas Test Century: The transformation of #RohitSharma into a world class opening batsman has been staggering. This century was inevitable given the way he has batted in this series. Privileged to see this. Class and love to watch highlights of his century today.
The way Virat celebrated Rohit's Century shows their relationship as a team and captain. This is what we love to see in Indian Cricket Team. Rohit Sharma hits his 1st Test hundred on foreign soil, completes 3,000 runs in longest format.
Rohit Sharma hits his 1st Test hundred on foreign soil
Rohit Sharma hits his 8th Test hundred at Oval on Saturday
Rohit sharma also completed his 3,000 Test runs during the knock
Rohit Sharma's all Test centuries were scored at home.
Rohit completed his century with a massive six off Moeen Ali.
India (Playing XI): Rohit Sharma, KL Rahul, Cheteshwar Pujara, Virat Kohli (c), Ajinkya Rahane, Rishabh Pant (w), Ravindra Jadeja, Shardul Thakur, Umesh Yadav, Jasprit Bumrah, Mohammed Siraj
England (Playing XI): Rory Burns, Haseeb Hameed, Dawid Malan, Joe Root (c), Ollie Pope, Jonny Bairstow (w), Moeen Ali, Chris Woakes, Craig Overton, Ollie Robinson, James Anderson
England have bowled an extremely tight line to Rohit Sharma. 83% of the deliveries they have bowled have been in the channel outside off, or in line with the stumps. Excellent control, excellent resistance. #ENGvIND
ESPNcricinfo: Visiting players to score centuries in all three formats while opening in England?????
Rohit Sharma… and
End of list
India: 50 runs in 18.5 overs (114 balls), Extras 1
1st Wicket: 50 runs in 114 balls (RG Sharma 26, KL Rahul 23, Ex 1)
Over 23.4: Review by India (Batting), Umpire – AG Wharf, Batter – KL Rahul (Upheld)
Over 33.6: Review by England (Bowling), Umpire – AG Wharf, Batter – KL Rahul (Upheld)
Over 39.2: Review by England (Bowling), Umpire – AG Wharf, Batter – RG Sharma (Struck down)
India: 100 runs in 39.6 overs (241 balls), Extras 1
Lunch: India – 108/1 in 42.0 overs (RG Sharma 47, CA Pujara 14)
RG Sharma: 50 off 145 balls (5 x 4)
2nd Wicket: 50 runs in 88 balls (RG Sharma 19, CA Pujara 30, Ex 1)
India: 150 runs in 53.6 overs (326 balls), Extras 2
Drinks: India – 153/1 in 54.0 overs (RG Sharma 66, CA Pujara 39)
2nd Wicket: 100 runs in 173 balls (RG Sharma 54, CA Pujara 46, Ex 1)
Over 63.3: Review by England (Bowling), Umpire – AG Wharf, Batter – CA Pujara (Struck down)
RG Sharma: 100 off 204 balls (12 x 4, 1 x 6)
Tea: India – 199/1 in 69.0 overs (RG Sharma 103, CA Pujara 48)
India: 200 runs in 69.1 overs (417 balls), Extras 2
CA Pujara: 50 off 103 balls (8 x 4)
2nd Wicket: 150 runs in 270 balls (RG Sharma 90, CA Pujara 59, Ex 1)
New ball taken at 80.1 overs
Over 80.6: Review by England (Bowling), Umpire – RK Illingworth, Batter – CA Pujara (Upheld)