Global Village Tickets: Entry Tickets available at just AED 15 online. VIP Ticket Starts from 1500 AED and It's worth trying. Explore the must-see attractions within Global Village & be inspired by itineraries of the top things in Global Village Dubai.
Explore wonders from around the world… القرية العالمية
Global Village Dubai online entry ticket prices at AED 15, while price at gate / counter will be AED 20. Better to book your ticket online to save money as well as time to avoid huge queue on the weekend or peak hours of entry and also you can save AED 5 on online which lesser than the physical ticket at the counter. Online ticket price for Global Village is lesser than the counter ticket as part of its robust digital transformation Global Village has introduced variable pricing to promote its secure, reliable, online booking platforms.
Entry tickets for Global Village Starts at just AED 15 Per person online. Park entry tickets are valid for a single entry on any day during 2021 Season 26. Children under 3, People of Determination (with one companion each) and seniors above 65 can enter free of charge, however, need a valid ticket.
Buy your Dubai attraction's tickets online or Wonder Pass Top-up. Points valid for all Global Village Attractions. Exclusive Packs available. Discover more special packages for the VIP. Get your tickets to the world's largest multicultural festival park, Global Village Dubai.
Global Village is a unique multi-cultural family destination created in 1997. This sprawling 1.6 million square meter Park is a one-stop shop for some of the best entertainment, shopping, dining and attractions in the region. One of Dubai's top attractions, Global Village takes you on a cultural journey around the world. Global Village brings together extraordinary people to create wonderful experiences for guests from around the globe.
People from all over the globe meet at Global Village Dubai to share their cultures and products to reach the global market. Dubai resident and tourist can enjoy the trip to Global Village.
To experience the best of the Dubai tourism, shopping, dining, park, and attractions in the United Arab Emirates, book your Global Village Dubai Tickets today to enjoy the global cultural activities in one place.
Global Village: Visit best tourist attraction in Dubai
Book your tickets for Global Village Dubai online. Read visitor reviews, check opening times and get directions. Elaborate shopping, dining & entertainment complex with an international theme, open October–April. Global Village is the best place to visit and one of the best tourist attraction in Dubai. Entry Ticket is just AED 15 Only.
How to use the Ticket in Global Village
You can use your mobile to present a mobile e-ticket for this activity in Global Village.
Global Village Ticket is only valid during the period specified in the selected package.
You can enter the attraction directly with either physical ticket or e-ticket
Tickets are valid till the end of the Global Village 26th Season. i.e., 2021/2022 Season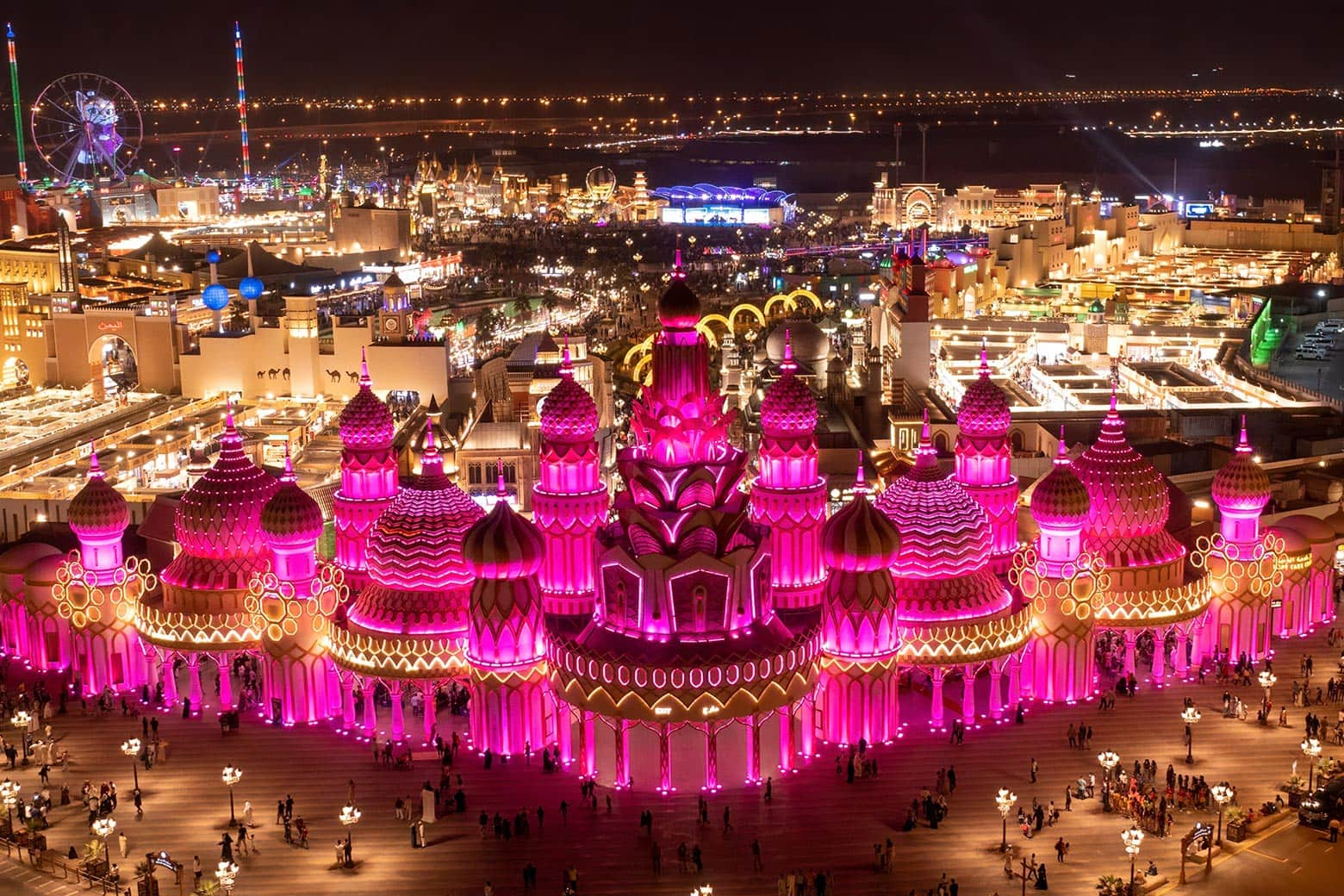 Global Village Entry Tickets
Global Village tickets starting from AED 15.00. Roam, taste and experience the world with Global Village along with your family and friends! An entry ticket to Global Village costs approximately in USD 4, and in Indian Rupee approximately INR 300/-.
Tickets starts from AED 15.00 for the park entry and VIP Tickets Pass starts from AED 1500.00 for Global Village Season 26 which is happening between Oct 2021 to April 2022.
Ticket can be booked online on 'Global Village official Website' www.globalvillage.ae
Dubai's Global Village opens every year from October to April and this is a place where celebration of culture from around the world gather. Tickets for Global Village are limited, and it's recommended to book in advance through online to avoid long queue.
Global Village is one of the Best Place to Visit in Dubai with cost effective. There are plenty of Things to Do, All at Global Village. Visit official website and begin your journey at Global Village Dubai today! Stay In Touch. View Events, shop more, eat more and have fun. One special days, you can get a chance to see your favourite singers from across the Globe.
Read More about EXPO 2020 Dubai Tickets
Tickets to Global Village – Platinumlist
Global Village tickets starting from 15.00 AED See, taste and experience the world with Global Village!
Global Village is the first family destination for culture, entertainment, dining and shopping in the region.
Your ticket includes admission to Global Village for a full day, with access to all the country's pavilions, food trucks, fountain show, The Railway Market and more.
Tickets purchased online are at 15 AED only while tickets purchased on-site are at 20 AED.
Platinumlist is one of the trusted platform to book global village tickets through online.
VIP Tickets | Get the Global Village VIP Treatment
Are you ready to take your Global Village experience to new heights this season with the VIP treatment?
Once your VIP Pack is with you, activate it and explore everything you'll get to enjoy as a Global Village VIP.
Starting 26 October 2021, this season is packed with more wonder than ever before. Get ready to experience it the VIP way!What you will get on the Global Village VIP Tickets?
Dedicated account and dashboard
Restaurant Reservation
Guest Services
VIP Concierge Service
Majlis of the World
Exclusive offer across other attraction
VIP Parking and Entrance
EXPO 2020 Dubai Pass / tickets
VIP Wonder Pass
Silver VIP Pack Tickets Price:
Silver VIP Ticket Pack Price: AED 1,500 | Pack Value: AED 5,000
1 VIP Parking Sticker
2 VIP Parking Cards
140 VIP Entry Tickets
VIP Wonder Pass Cards worth AED 840
1 table reservation for the Ramadan Majlis of the World
GOLD VIP Pack Tickets Price:
Gold VIP Ticket Pack Price: AED 1,900 | Pack Value: AED 10,000
1 VIP Parking Sticker
3 VIP Parking Cards
160 VIP Entry Tickets
VIP Wonder Pass Cards worth AED 1250
2 table reservations for the Ramadan Majlis of the World
Platinum VIP Pack Tickets Price:
Platinum VIP Ticket Pack Price: AED 2,400 | Pack Value: AED 12,000
1 VIP Parking Sticker
4 VIP Parking Cards
180 VIP Entry Tickets
VIP Wonder Pass Cards worth AED 1640/li>
3 table reservations for the Ramadan Majlis of the World
1 Expo 2020 Dubai Season Pass
Complementary tickets, exclusive offers and VIP privileges from Dubai Parks & Resorts, Roxy Cinemas, The Green Planet and Laguna Waterpark
Diamond VIP Pack Tickets Price:
Diamond VIP Tickets Pack Price: AED 6,000 | Pack Value: AED 17,000
1 remote control for reserved VIP parking
2 VIP Parking Stickers
5 VIP Parking Cards
240 VIP Entry Tickets
VIP Wonder Pass Cards worth AED 3050
Popular Pavilion in Global Village
GLOBAL Village Park Timing
Global Village is excited to welcome guests from 4pm on October 26, 2021.
Saturday – Wednesday: 4PM – 12AM
Thursday – Friday: 4PM – 1AM
Mondays (except those falling on a public holiday) are exclusively reserved for families and ladies.
Global Village Amenities
Amenities
Baggage storage
Good for kids
Restaurant
Toilets
Free Wi-Fi
Global Village Direction
Global Village, Sheikh Mohamed Bin Zayed Road and Emirates Road – Exit 37 – E311,
Dubai, United Arab Emirates
How to get there?
By Public Transport
You can take any of the bus routes from the following metro stations from 3:15 PM until 11:15 PM daily, with 30 minutes of travel time.
Route 102 from Rashidiya Metro Station
Route 103 from Union Metro Station
Route 104 from Al Ghubaiba Bus Station
Route 106 from Mall of Emirates Metro Station
By Car or Other Personal Transport
Global Village Entry ticket is just 15 AED however in the inside there are plenty of activities available to book tickets through online. Don't miss out the exciting global event for the 2021 Season 26 in Dubai. Fun activities for all the family, from shopping to shows, street food to funfair & More. Global–Village online tickets for just AED 15 per person! Book your online tickets today. Great Savings. Best Deals.