India Pavilion | Expo 2020 Dubai
India Pavilion – A Sustainable Future for the Planet
India Pavilion, Expo 2020: India's massive 4-floor pavilion promises to captivate one and all with a brilliant mix of Ayurveda, Yoga, Space programme, and its fast-growing US$ 2.5 trillion economy.
One of the Largest pavilions at the Expo 2020 Dubai, India pavilion will feature an innovative kinetic and a deceptive outward appearance.
The India pavilion at Expo 2020 Dubai has been completed with officials describing it as a "permanent footprint"
Permanent Expo Indian Pavilion Dubai Now: Secretary Commerce
India will have one of the most strategic pavilions at the Dubai Expo 2020 that will aim to foster solutions to the world's biggest challenges – Hindustan Times
Expo Pavilion: Expos, a unique platform for public diplomacy and nation branding. In their pavilions, countries display and showcase technological innovations and national cultures, engaging with civil society to craft a positive and distinctive national identity.
India Pavilion, Expo 2020 Dubai, Exhibition and Trade Centre in Dubai, United Arab Emirates.
Address: Al Forsan Crescent – Dubai – United Arab Emirates
Phone: +971 4 338 8557
Location Map : Google Map Location
Location:
Opportunity District
Architect:
CP Kukreja Architects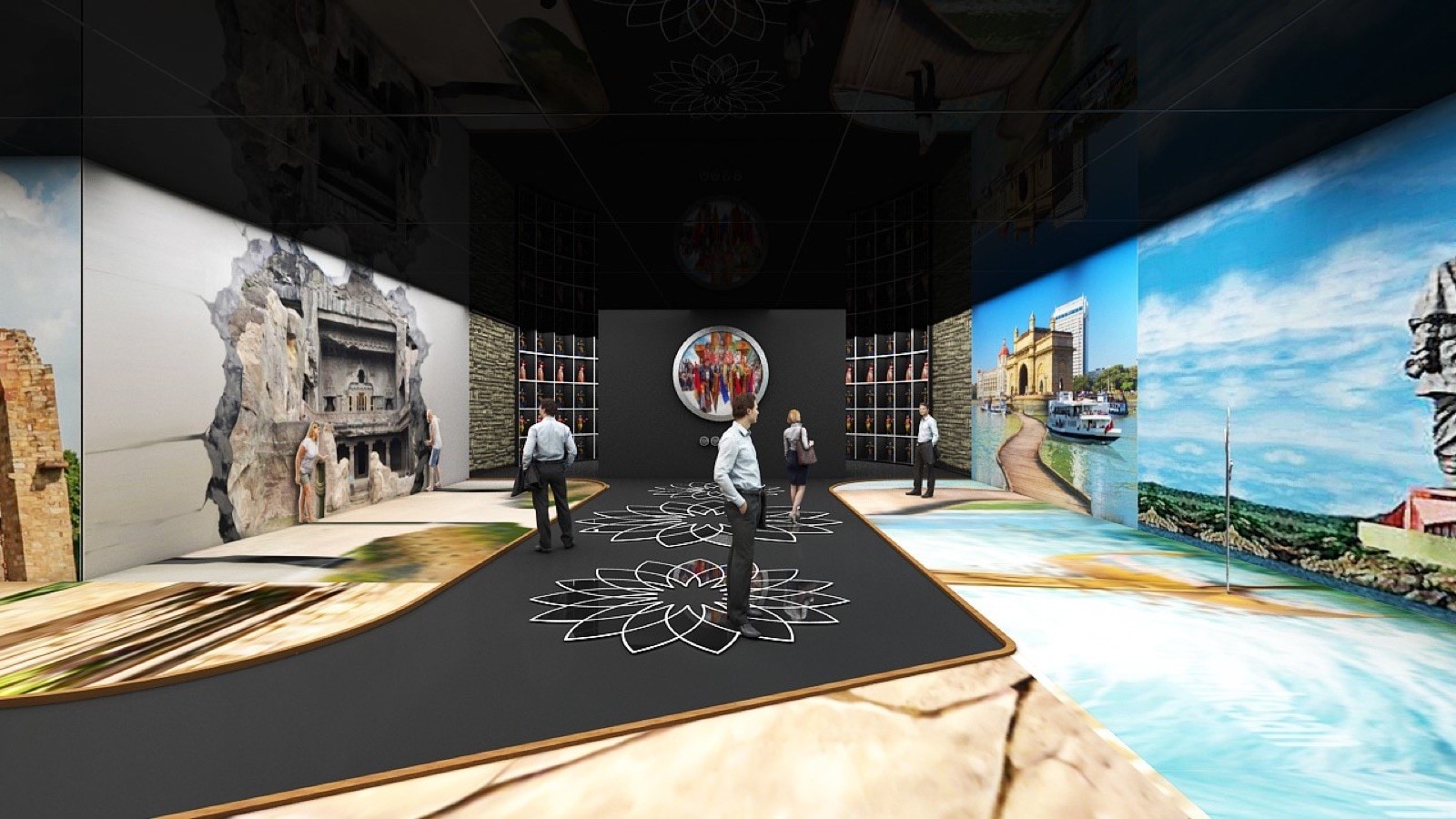 A dynamic showcase
Showcasing India's art, culture, literature, cinema and cuisine from across 36 states and union territories. Discover Indian businesses across 27 verticals of the economy, India's states and the world's third-largest start-up ecosystem. Over 150 mega cultural and business events and 26 multilateral summits will be hosted over the course of 182 days.
Make the most of India's growth story
India's growth and its huge market add hope and promise to the world economy. Its open business environment, an abundance of young talent, strengths across verticals and vast resources make it an ideal business partner.
A showcase of India's diversity
India is home to 1.3 billion people from over 700+ tribes and communities conversing with each other in 19,000 languages and dialects. It has an eclectic blend of religions and spiritual streams that travel far back in time and all over the world. Witness the unique tapestry of art and culture of one of the world's oldest civilizations.
600+ rotating screens on the façade
The dynamic façade will narrate the 75-year old journey of the world's largest democracy. Every week, the Pavilion's façade will turn into a screen where three selected stories of the 'constant change' and 'timeless endurance' of what is quintessential India would be beamed.
Enjoy cultural programmes, movies and great food
Showcasing over 100 movies from the world's largest movie industry. The Pavilion will also be a vibrant cultural hub with hundreds of performances. It will serve food and drinks from across India's states and union territories.
India Pavilion at the World Expo 2020, Dubai. Expo 2020 Dubai | Light and Sound Show At The India Pavilion
Here's a glimpse of a vibrant India coming alive on the #IndiaPavilion facade at #Expo2020Dubai. Stay tuned for such evenings, when this facade will turn into a grand show with sound, light and projections. #IndiaAtDubaiExpo #Expo2020Dubai
First Look at India Pavilion in Expo 2020 Dubai
Quick Facts:
India's Land Area: 3.287 million sqkm36 states and union territories, with the largest number of elected representatives in the world
Among the fastest growing economies: India is one of the world's fastest-growing large economies, GDP growth touched 20.1% in Q1-FY22
Proponent of sustainable growth: Leading in greening the economy, we are on track to meet the goals of the Paris agreement ahead of schedule
Shycocan named official safety partner for the India pavilion at Expo 2020 Dubai
Shycocan Corporation has announced their appointment as the official safety partner for the India Pavilion at the Expo 2020 Dubai. Under the partnership, Shycocan will install its certified innovative technology virus-attenuation devices, scientifically evidenced to neutralise, and help curb the spread of virus in the current pandemic in enclosed spaces with up to 99.9% efficacy rates, all across the legend India pavilion.
List of Indian States to Exhibit
Gujarat will be the first state to exhibit in the India Pavilion, followed by Karnataka, Ladakh, Telangana, Rajasthan, Maharashtra, Uttar Pradesh, Kerala, Jammu and Kashmir, Goa, Andhra Pradesh, Chhattisgarh, Jharkhand, Himachal Pradesh, and Haryana. Tamils are the most number of people living in Dubai next to Kerala however, Tamil Nadu is not part of this exhibition which is wondering for the people NRI from Tamil Nadu.
Did you know?
You'll be welcomed to a 8,750 sqm state-of-the-art pavilion with a mesmerizing all-digital experience, dynamic content curation with on-demand touch screen menus, 3-D augmented reality projection systems across floors, walk-in experience kiosks and VR pods, and mirror finished floors with LED surround projection.
There's also conferences, a movie hall and cultural programmes in the amphitheatre, plus retail space to buy Indian curios and restaurants to enjoy Indian cuisine.
Book you ticket today

Cultural discovery
Dubai: India's pavilion at Expo 2020 Dubai will have a new look. The facade of the main building has been tweaked to give a modern touch. When the world's biggest party finally kicks off in October in Dubai, India's 4,800 sqm national pavilion will showcase new technology, and its "5 Ts" .

Events
There will be big celebrations of festivals and national days of importance that fall during the Expo such as Diwali, UAE National Day, Indian Republic Day and Holi – in the pavilion

Exhibitions
The construction is progressing fast, with the main structure scheduled and completed by March 31, 2021.

Food & beverage
There's are plenty of retail space to buy Indian curios and restaurants to enjoy Indian cuisine

Gift/Souvenir shop

Technology
India Pavilion at Expo 2020 Dubai to Showcase Resurgent India's March to Becoming a USD 5 Trillion Economy.
The India Pavilion in Expo 2020 Dubai starting October 1 is set to showcase a resurgent India's march to becoming a USD 5 Trillion economy in the post-covid world. The Pavilion which is a technology marvel will not only capture the vibrant Indian culture and its past but also the capabilities and opportunities that it presents as a global economic hub to the domestic as well as the foreign investors.
THE GLITTERING JEWEL OF WORLD EXPO 2020, DUBAI
The India Pavilion is a 4 level structure that will showcase India's prowess as a global leader. Space, culture, heritage, technology, will be the defining pillars of the Pavilion
India Pavilion Programme Schedule

DAY 1 – Friday, OCT 1st, 2021
| TIME | ACTIVITIES |
| --- | --- |
| 18:00 – 20:00 | Inauguration ceremony of India Pavilion and Cultural Show |
India Pavilion Schedule
---
Features of India Pavilion
Witness "openness. Opportunity. Growth" at the India Pavilion
The India Pavilion at Expo 2020 Dubai reflects India's commitment to the philosophy of लोका: समस्ता: सुखिनो भवन्तु (Lokah Samastah Sukhino Bhavantu), which means, "May everyone, in the whole world, be happy."
The India Pavilion at Expo 2020 Dubai is one of the biggest platforms that offers a golden opportunity to showcase India to the world and project the country as the next hub for growth and innovation.
Nestled at the Al Fosan Park adjacent to the 'Opportunity' district of the Expo 2020 Dubai, India Pavilion is created on the theme of "Openness. Opportunity. Growth."
Under this, the pavilion will be focusing on 11 primary themes – Climate and Biodiversity, Space, Urban and Rural Development, Tolerance and Inclusivity, Golden Jubilee, Knowledge and Learning, Travel and Connectivity, Global Goals, Health and Wellness, Food Agriculture and Livelihoods, and Water, each having a dedicated zone all underneath one gigantic roof.
The vastness of the theme allows visitors to explore and experience India's strengths and achievements in all its glory. Doors open from 1st October 2021 to 31st March 2022.
India Pavilion Corporate Partners
Introducing Petrochem Middle East FZE as one of our Corporate Partners for the #IndiaPavilion at @expo2020dubai
The #IndiaPavilion is pleased to announce Chhattisgarh – The Mineral Bowl of India, as our Partner State Government for Expo 2020 Dubai
Introducing Aster DM Healthcare as one of our Corporate Partners for the #IndiaPavilion at @expo2020dubai.
Here's what Mr S.N. Subrahmanyan, CEO & Managing Director of Larsen & Toubro Limited has to say about their participation as the #CorporatePartner of the #IndiaPavilion at @expo2020dubai.
India Pavilion Direction Map
To know more about India Pavilion at Expo 2020 Dubai, please visit:
Website – www.indiaexpo2020.com
Facebook – www.facebook.com/indiaatexpo2020
Instagram – www.instagram.com/indiaatexpo2020
Twitter – twitter.com/IndiaExpo2020?s=09
Linkedin – www.linkedin.com/company/india-expo-2020/?viewAsMember=true
YouTube – www.youtube.com/channel/UC6uOcYsc4g_JWMfS_Dz4Fhg
Koo – www.kooapp.com/profile/IndiaExpo2020
To know more about Expo 2020 Dubai, please visit www.expo2020dubai.com/en.