Happy Republic Day, India!
Republic Day 2022: Wednesday, 26 January, India celebrating its 73rd Republic Day. On this day in 1950, the Constitution of India came into existence.

Google has marked India's 73rd Republic Day with its special doodle. Today's Republic Day India doodle is the Republic Day doodle to feature on Google India's home page. In celebration of India's Republic Day, today's Doodle artwork reflects the range of vibrant cultures that bring the colorful nation to life.
State Emblem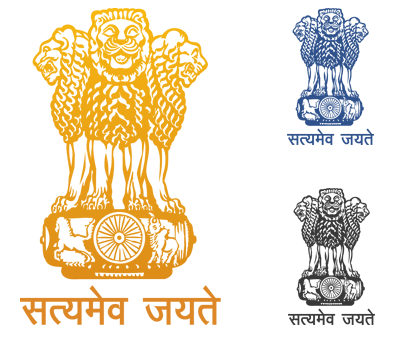 The State Emblem is an adaptation of the Lion Capital of Asoka at Sarnath. In the original, there are four lions, mounted back to back, on a circular abacus, which itself rests on a bell-shaped lotus. The frieze of the abacus has sculptures in high relief of an elephant, a galloping horse, a bull and a lion separated by intervening Dharma Chakras.
The profile of the Lion Capital showing three lions mounted on the abacus with a Dharma Chakra in the centre, a bull on the right and a galloping horse on the left, and outlines of Dharma Chakras on the extreme right and left was adopted as the State Emblem of India on January 26, 1950. The bell-shaped lotus was omitted. The motto Satyameva Jayate, which means 'Truth Alone Triumphs', written in Devanagari script below the profile of the Lion Capital is part of the State Emblem of India
---
Google dedicated a colourful doodle marking the 73rd Republic Day of India. It recreated the celebrations depicting the iconic Republic Day Parade, representing various components of the country's rich heritage, culture and history: environment, architecture, textiles, wildlife, monuments, and farming.
LIST OF RECIPIENTS OF BHARAT RATNA
1. Shri Chakravarti Rajagopalachari (1878-1972) 1954
2. Dr. SarvapalliRadhakrishnan (1888-1975) 1954
3. Dr. ChandrasekharaVenkata Raman (1888-1970) 1954
4. Dr. Bhagwan Das (1869-1958) 1955
5. Dr. MokshagundamVisvesvaraya (1861-1962) 1955
6. Pt. Jawaharlal Nehru (1889 -1964) 1955
7. Pt. GovindBallabh Pant (1887-1961) 1957
8. Dr. DhondoKeshavKarve (1858-1962) 1958
9. Dr. Bidhan Chandra Roy (1882-1962) 1961
10. Shri Purushottam Das Tandon (1882-1962) 1961
11. Dr. Rajendra Prasad (1884-1963) 1962
12. Dr. Zakir Husain (1897-1969) 1963
13. Dr. PandurangVaman Kane (1880-1972) 1963
14. Shri Lal Bahadur Shastri (Posthumous) (1904-1966) 1966
15. Smt. Indira Gandhi (1917-1984) 1971
16. Shri VarahagiriVenkataGiri (1894-1980) 1975
17. Shri KumaraswamyKamraj (Posthumous) (1903-1975) 1976
18. Mother Mary Teresa Bojaxhiu (Mother Teresa) (1910-1997) 1980
19. Shri Acharya VinobaBhave (Posthumous) (1895-1982) 1983
20. Khan Abdul Ghaffar Khan (1890-1988) 1987
21. Shri MarudurGopalan Ramachandran (Posthumous) (1917-1987) 1988
22. Dr.Bhim Rao RamjiAmbedkar (Posthumous) (1891-1956) 1990
23. Dr. Nelson Rolihlahla Mandela (1918-2013) 1990
24. Shri Rajiv Gandhi (Posthumous) (1944-1991) 1991
25. SardarVallabhbhai Patel (Posthumous) (1875-1950) 1991
26. Shri MorarjiRanchhodji Desai (1896-1995) 1991
27. MaulanaAbulKalam Azad (Posthumous) (1888-1958) 1992
28. Shri JehangirRatanjiDadabhai Tata (1904-1993) 1992
29. Shri Satyajit Ray (1922-1992) 1992
30. Shri Gulzarilal Nanda (1898-1998) 1997
31. Smt. ArunaAsaf Ali (Posthumous) (1909-1996) 1997
32. Dr. A.P.J. Abdul Kalam (1931-2015) 1997
33. Smt. Madurai ShanmukhavadivuSubbulakshmi (1916-2005)
34. Shri Chidambaram Subramaniam (1910-2000) 1998
35. Shri Jayaprakash Narayan (Posthumous) (1902-1979) 1999
36. Professor Amartya Sen (b-1933) 1999
37. LokpriyaGopinathBordoloi (Posthumous) (1890-1950) 1999
38. Pandit Ravi Shankar (1920-2012) 1999
39. SushriLataDinanathMangeshkar (b-1929) 2001
40. UstadBismillah Khan (1916-2006) 2001
41. PanditBhimsenGururaj Joshi (1922-2011) 2009
42. Prof. C. N. R. Rao (b-1934) 2014
43. Shri Sachin Ramesh Tendulkar(b-1973) 2014
44. Shri Atal Bihari Vajpayee (1924-2018) 2015
45. Pandit Madan Mohan Malaviya (Posthumous)(1861-1946) 2015
46. Shri NanajiDeshmukh (Posthumous)(1916-2010) 2019
47. Dr. Bhupendra Kumar Hazarika (Posthumous)(1926-2011) 2019
48. Shri Pranab Mukherjee (b-1935) 2019
Republic Day wishes
Let us make a promise that we would not let the hard sacrifices of our brave freedom fighters go in vain. We would work hard to make our country the best in the world. Happy Republic Day 2022!
Enjoy your freedom, but also respect the numerous sacrifices made by our leaders. Happy Republic Day!
Never forget those who have fought for us to celebrate the day. Happy Republic Day!
East or West, India is the best, let us strive to make it even better. Wish you all a Happy Republic Day!
Happy Republic Day! No matter where we are today, India is the constant identity.
With faith in our hearts and independence in our thoughts, let's salute the Nation. Happy Republic Day.
A thousand salutes to this great nation of ours. May it become even more prosperous and great. Happy Republic Day.
Freedom in the mind, Strength in the words, Pureness in our blood, Pride in our souls, Zeal in our hearts, Let's salute our India on Republic Day. Happy Republic Day 2022.
Give me blood and I shall give you freedom.
You should be proud that you are an Indian because those who are born in this great country are truly blessed. Happy Republic Day 2022!
Republic Day Messages
May the brave leaders of our glorious nation guide us to peace and prosperity so that we can hold our heads high and be proud of our country. We salute the work they did for this country on this day. Happy Republic Day!
On this special occasion, let us make a promise to our motherland that we will do all we can to enrich and preserve our heritage and our national ethos. Wishing you all a very Happy Republic Day 2022!
Freedom of thought, strength in our convictions and pride in our heritage. Let's salute our brave martyrs on Republic Day. Happy Republic Day!
Let us join our hands and work together to protect our nations from all the social evils that are tarnishing its greatness. I wish you a very Happy Republic Day 2022!
Our brave heroes waged a valiant struggle for years so that future generations could live their lives with freedom and dignity. This is a day to celebrate them and what they fought for. Wishing you all a very Happy Republic Day!
On this special day, Let's promise our motherland that We will do everything to enrich and preserve our heritage, our ethos and our treasure. Happy Republic Day 2022
Freedom has not come easy, it is because of the sacrifices of our freedom fighters, so never take it for granted. I wish you a very Happy Republic Day 2022!
Freedom of thought, strength in our convictions and pride in our heritage. Let's salute our brave martyrs on Republic Day. Happy Republic Day!
As We Match Out
In The Spirit Of Brotherhood And Nationhood,
Let Us Not Forget To Defend
The Colors Of Our Flag With All We Have.
Happy Republic Day!
Republic Day Quote
We are Indians, firstly and lastly.

B. R. Ambedkar
I dream of an India that is prosperous, strong and caring. An India, that regains a place of honour in the comity of great nations.

Atal Bihari Vajpayee
I am an Indian, and I know what India is. I know Indian culture. I know Indian constitution and democracy

Mammootty
Indian culture certainly gives the Indian mind, including the mind of the Indian scientist, the ability to think out of the box.

Roland Joffe
I am Indian, and I'm proud of it. Indian life is mythologically rich and powerful.

Anish Kapoor
The entire planet is drawn to Indian culture and soft power. The global community looks to us for solutions to international problems – whether terrorism, money laundering or climate change. In a globalised world, our responsibilities are also global.

Ram Nath Kovind
National Flag
The National Flag is a horizontal tricolour of India saffron (kesaria) at the top, white in the middle and India green at the bottom in equal proportion. The ratio of width of the flag to its length is two to three. In the centre of the white band is a navy-blue wheel with 24 equally spaced spokes which represents the Ashoka Chakra.
The design of the National Flag was adopted by the Constituent Assembly of India on 22 July 1947.
National Anthem
The song Jana-gana-mana, composed originally in Bangla by Rabindranath Tagore, was adopted in its Hindi version by the Constituent Assembly as the National Anthem of India on January 24, 1950.
The National Anthem
Playing time is approximately 52 seconds.
Jana-gana-mana-adhinayaka jaya he
Bharata-bhagya-vidhata
Punjaba-Sindhu-Gujarata-Maratha
Dravida-Utkala-Banga
Vindhya-Himachala-Yamuna-Ganga
uchchala-jaladhi-taranga
Tava Shubha name jage, tava shubha asisa mage,
gahe tava jaya-gatha.
Jana-gana-mangala-dayaka jaya he
Bharata-bhagya-vidhata.
Jaya he, Jaya he, Jaya he,
jaya jaya jaya, jaya he.
Republic Day Images
About India!
India is one of the oldest civilizations in the world with a kaleidoscopic variety and rich cultural heritage. It has achieved all-round socio-economic progress since Independence. As the 7th largest country in the world, India stands apart from the rest of Asia, marked off as it is by mountains and the sea, which give the country a distinct geographical entity. Bounded by the Great Himalayas in the north, it stretches southwards and at the Tropic of Cancer, tapers off into the Indian Ocean between the Bay of Bengal on the east and the Arabian Sea on the west.
We are Indians, firstly and lastly.
Happy Republic Day, India!
We are Indians, firstly and lastly!
Happy Republic Day, India!!
My India My Pride!!!
---
Indian in History – Republic Day 2021