Harsha Bhogle Commentary: Why is Harsha Bhogle so passive in commentary?
Harsha Bhogle Commentary
Harsha Bhogle Commentary: Harsha Bhogle didn't tweet on Karunaratne's ton in Bengaluru Test. He was completely busy on appreciating only India. Cricket is a gentleman game not just only for players. It is applicable for commentators as well.
Harsha Bhogle so Passive in Commentary?
A commentator should be neutral and praise the players who performs well no matter whether he is Indian or Sri Lanka or Pakistan. Harsha Bhogle Commentary is missing this in the recent times.
Harsha Bhogle missed to appreciate during Commentary for Sri Lanka skipper Dimuth Karunaratne fought a lone battle in the second Test against India in Bengaluru on Monday (March 14). He slammed a scintillating century on a tough pitch during the Pink-ball Test showing excellent technique against spin bowling of high class. No wonder the cricketing fraternity lauded him for his batting and congratulated the southpaw for his knock except Harsha Bhogle who is the live commentator for the match.
Harsha Bhogle was busy appreciating India's invincible record at home in Tests and also praised Rishabh Pant for his superb keeping skills during the Test series. The southpaw also won the Player of the Series for his aggressive batting and exceptional wicketkeeping.
Negative commentary about Sanju Samson during IND vs SL T20 Series
Bhogle tweeted more about the enigma surrounding the batsman's career. Despite being one of the most talented batsmen in the domestic circuit as well as in IPL, Samson is yet to make a mark on the biggest stage of the game. He has not made it to the Indian team since 2015 as consistency and discipline have been his nemesis so far. This is not the way to explain about the young players and it will be impacted on the player's career.
Even, you can witness the recent comment about Sanju samson with negative comments while he enter into the stadium to open. People should understand that Sanju samson played his first T20I match in 2022. It was his first match in five years after his debut in 2015.
Bhogle didn't tweet for Karunaratne after ton in Bengaluru Test
But he consider his old tweet from Harsha Bhogle for his century and thanked him however it was tweeted on August 2019. It seems like the cricketer was expected the Indian commentators to appreciate his work on the ground.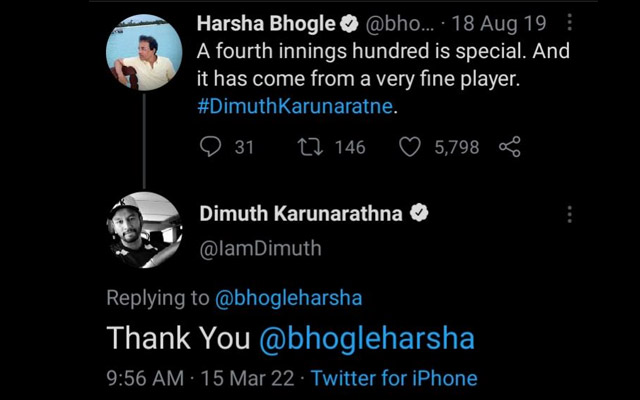 "Harsha Bhogle is pretty overrated. He is not a bad commentator but not a great one as well" – Cricket fan commented on Quora
The problem is that we dont have too many good commentators nowadays, especially in India. Richie bernard, Tony Greig, Ravi shastri, geoffrey boycott, david gower etc played cricked before becoming commentators, so their comments and perspectives were usually on point and not redundant at all.
Why was Harsha Bhogle banned from IPL 2016 commentary?
Harsha Bhogle's contract for the IPL was terminated a week before IPL 2016 without any explanation by the BCCI. However an official was quoted saying that "When deciding the commentators, we take feedback from everyone. We monitor social media reactions commentators, and also take inputs from players".
He was dropped from the commentary team by BCCI in April 2016 due to alleged criticism from Indian players. He has hosted television programs such as Harsha Online, Harsha Unplugged and School Quiz Olympiad for ESPN and Star Sports.
Harsha Bhogle Invested in Fantasy Cricket App
Indian cricket commentator Harsha Bhogle has invested in Fantasy Akhada, an online fantasy sports platform for cricket and football. The 59-year-old will also be the brand ambassador of the same for the next two years. The Fantasy Akhada was set up in January earlier this year.
Voice of Cricket – Harsha Bhogle
India's ace commentator Harsha Bhogle is hailed as one of the best cricket analysts and experts of the game. He is popularly known as the 'voice of cricket' has made his voice reach our homes for years. His witty one-liners are a thing of beauty.
Net-worth of Harsha Bhogle:
As per the reports, Harsha Bhogle receives a salary of $800,000 to $900,000. Harsha's net worth has drastically increased between 2020 and 2021. His income source is mostly from being a successful Indian cricket commentator and a journalist.
His net worth also comprises the salary he receives from broadcasting channels for his commentary duties and from several brands through advertisements. Reportedly, Harsha Bhogle's net worth to be about USD $22 million (Rs 140 crore).
Harsha Bhogle sparks debate with 'easiest time in Test history to be No.1' comment
Harsha Bhogle has sparked debate by claiming that "this is the easiest time in the history of cricket to be [the] No.1 [men's Test side]".
Speaking on The Final Word Cricket Podcast, the commentator noted that while India climbed to the No.1 ranking in Test cricket under Virat Kohli, there was still a 4-1 loss in England in 2018, a whitewash in New Zealand in 2020 and the recent series defeat in South Africa.
"I don't want to be seen to be poking holes into an outstanding record, but the closer you look into that record, there wasn't a win in South Africa, there wasn't a win in New Zealand, there was a 4-1 defeat to England in 2018," Bhogle said. "This is the easiest time in the history of cricket to be No.1.
His remarks, though, prompted some discussion, following which Bhogle took to Twitter to clear.
'This is becoming a negative world,'
'This is becoming a negative world,' Harsha Bhogle rejects taking revenge on MS Dhoni. Harsha Bhogle defends his stance about Dhoni's innings against Royal Challengers Bangalore.
Veteran commentator Harsha Bhogle who was earlier not included in IPL 9's commentary panel again found himself in the midst of another controversy when he tweeted about Mahendra Singh Dhoni's insipid batting against the Royal Challengers Bangalore (RCB) on Friday. However, the experienced commentator stuck to his words and rightly defended himself when twitterati reacted aggressively to his post.
Bhogle tweeted, "180+ run chase. 41 (38) can't win it for you. Some days it might come off but most days it won't from there."
user Vikash Chaturvedi went a step ahead and directly blamed Bhogle asking him not to take revenge on Dhoni, "@bhogleharsha sir .dont take revenge @msdhoni is great player. Apko shobha nhi deta," he said. The widely acknowledged commentator was stunned to see such a comment and replied, ".
@vikashccc Are you guys nuts? Was an observation based on numbers. This is becoming a negative world!!"
Also Bhogle was not happy with the reports of quite a few news Websites.
— Harsha Bhogle (@bhogleharsha) April 23, 2016
Incidentally during the World T20, there was a debate on Twitter when actor Amitabh Bachchan criticised Indian commentators for not talking highly about the Indian team. "With all due respect, it would be really worthy of an Indian commentator to speak more about our players than others all the time," he had tweeted. Many thought that this tweet was directed towards Bhogle. Also Dhoni was quick to retweet this with the words, "Nothing to add." This added fuel to fire.