India Vs New Zealand Tickets – How to Book IND Vs NZ Tickets on Paytm Online Jaipur
Tickets for India Vs New Zealand Paytm online: How to book India Vs New Zealand tickets Paytm online T20I series 2021 in Jaipur, India
Tickets for India Vs New Zealand in Jaipur: It's time for T20I Cricket Action Live from Jaipur. Watch India vs New Zealand in the first T20I of the Paytm T20I Trophy LIVE from Jaipur. Experience all the action as the New Zealand Tour of India, 2021 takes place at Sawai Mansingh Stadium in Jaipur, India. 1st T20I Match Timings – 7:00 PM IST on 17th Nov, 2021. 1st T20I on Wednesday 17 November 2021 as part of India v New Zealand 2021 tour.
How to Book Online Ticket of IND vs NZ T20 Match in Jaipur
Team India has been looking forward to the T20I series against New Zealand after their previous encounter in the T20 World Cup 2021. The Kiwis are about to bring their fierce game for the next match, and it's going to be an action packed one. The Indian team is getting ready for a royal welcome when the black caps reach Jaipur. Get your tickets now for some good ol' cricket action to come!
Step By Step Guide for How to book Ind Vs NZ tickets in Jaipur through Paytm Online
Step 1: Click on the Paytm website: Insider.in. PayTM is the ticket platform where you can buy tickets for the match effective today. The best ways to buy online for IND vs NZ match in Jaipur. Follow the Steps which is explained in detail]
Step 2: Click on Buy Now which is available on the right side of the screen on paytm event ticket booking page. Once you click on Buy Now, It will redirect to choose the stand.
Step 3: Filter Section by Price. Choose the section, [ Rs.6000 West Corporate Box | Rs.12500 President Gallery | Rs.15000 President Box East / West]
Step 4: Choose the section of your favourite stand as per your choice [Based on the availability]
Step 5: Click on the section in the below picture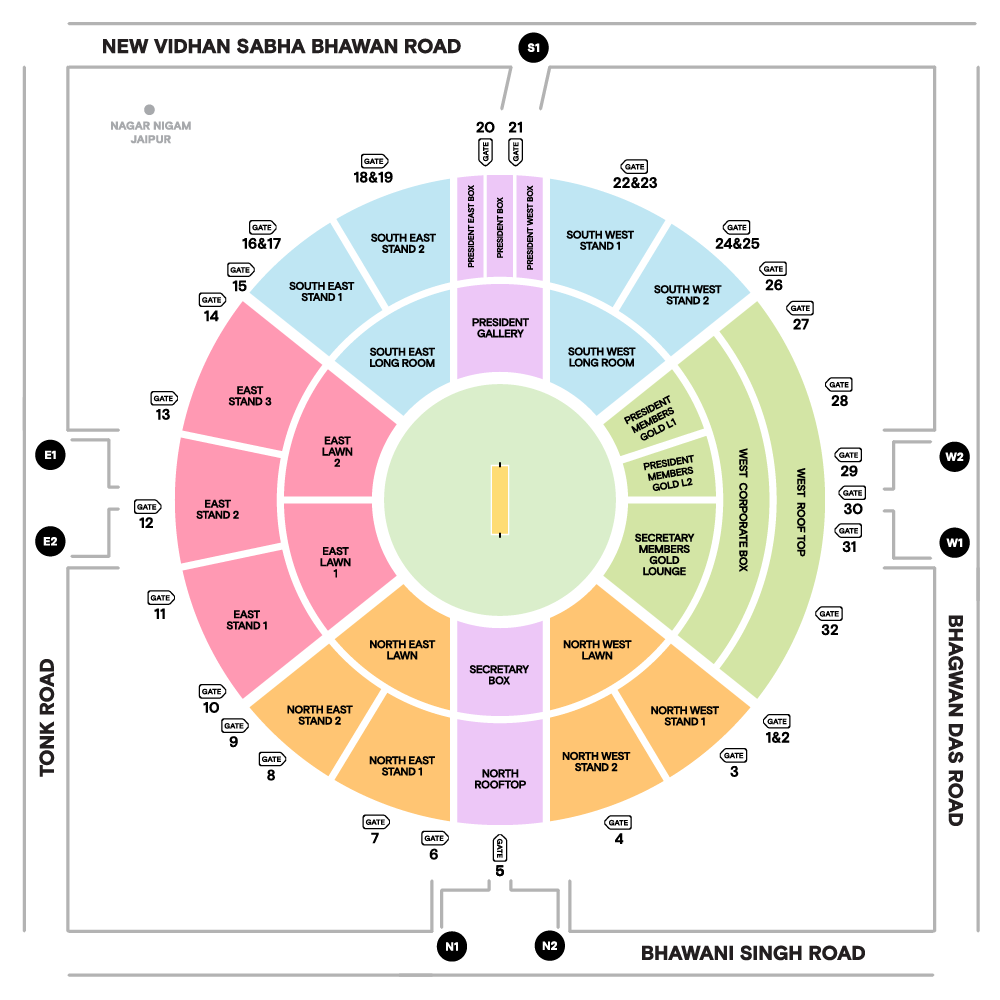 Step 6: Click on Buy Now as per the available ticket per section
Step 7: Pick up your tickets from 14th November to 16th November. Choose Slot *
Step 8: Choose Slot from the drop down
Step 9: Accept and terms and conditions – Check out on the box to accept the terms and conditions,
Step 10: Check out and fill you personal information and credit card details for payment.
Login / Register – Enter Email to verify or register | OTP Will be sent to you email ID – Enter OTP and Continue
Pick Up Details – Physical tickets are mandatory for entry to the stadium. Ticket pickup details will be shared closer to the match day.
Order Summary
Ticket Details – Enter Name and Whatsapp Number with Country Code | Tick on Get your tickets on WhatsApp and then Continue
Choose Payment Method and Pay [Credit/Debit/Netbanking/UPI/Paytm/EMI] and confirm.
Once the payment is paid, Your Paytm Tickets India Vs New Zealand is booked.
Get to ready to Enjoy the match in Stadium.
Tickets for IND vs NZ are available online and the price starts from Rs.1000, maximum up to Rs.15000 for President Box / Gallery on a first come first served basis on the official Paytm ticketing website. Please refer to Paytm for availability. President Box / Gallery price is double the price than the any other previous matches due to high in demand for India vs NZ as New Zealand coming to India just after 2 days from T20 World Cup final.
How to Book Online Ticket of IND vs NZ T20 Series via Paytm App
1st T20 Match of India vs New Zealand 2021 Series can be booked through the paytm app. The online ticket price details have been explained in detail above. Cricket fanatics can book ticket online and booking for the match will be starting from Today, 12 November 2021.
First, go to the official Paytm App on Android or iPhone.
Click India vs New Zealand Match Online Ticket Booking link.
Enter the user details such as Name, Mobile number, Identity card, address and other details.
Make the Payment online for the ticket.
Then, click on the submit button to book your tickets.
The ticket will be available on your mobile.
Ticket Pickup Details for India Vs New Zealand T20 in India
How to pick up Paytm IND Vs NZ T20I Tickets: Physical Tickets are mandatory for entry to the venue. Please carry your e-ticket to collect your physical ticket.
Note: Student Ticket holders need to carry their valid student ID proof to collect their physical ticket copy.
Box Office will be open from November 14th 10AM. You can pick up your tickets from the said slots between 10AM to 6PM on 14, 15 and 16th November.
Venue for India Vs New Zealand T20 in India – First T20 in Jaipur
How to Reach "Sawai Mansingh Stadium", Jaipur to collect tickets. Where the Stadium located? Location Map?
Jan Path, Jaipur Nagar Nigam, Lalkothi, Jaipur, Rajasthan, 302005. Click on the below map to get direction for stadium to collect tickets for IND Vs NZ First T20I Match in Jaipur.
Terms & Conditions for India Vs New Zealand T20I in India
Entry to the venue is subject to showing your vaccination certificate(at least single dose mandatory) or Negative RT-PCR report taken 48hours prior to the match start time.
Entry will be on production of a valid ticket at the turnstile. Children also need to have a valid ticket for entry. This ticket is strictly not transferable. Please refer to the route map and follow the correct route.
Tickets are QR code based and can be damaged by heat or sunlight. If the ticket or the QR code is damaged/ tampered/ defaced in any manner, authorities have the right to refuse entry into the stadium.
Gates E1 and E2 open at 2:30pm. All other gates open at 3PM. Seating will be on a first come first serve basis. To get the best view from the stands, it is advised to occupy your seats at the earliest.
No entries will be allowed after 8:30 PM.
Please produce your ticket on demand and retain this ticket till the end of the match. Tickets once sold will not be refunded, cancelled, returned or exchanged. Tickets are not replaceable due to loss, theft, damage or for any other reason whatsoever.
Please park your vehicle in the earmarked parking lot.
Food articles, eatables, drinks or beverages are NOT allowed inside the stadium.
Bags, outside food / alcohol, bottles, lighters/matchbox, chewing tobacco/Gutka, firearms, cigarettes/bidi/e-cigarettes, tins, cans, musical instruments, flammable, toxic, illegal or hazardous substances, metal containers, umbrellas, sharp objects (such as knives, syringes etc.), cameras or any other audio-visual recording equipment for recording and / or communication of match details / statistics / images, headphones/earphones, helmets, power bank, selfie stick, wooden sticks, backpack, eatable(except baby food), dangerous goods, laptop, glass containers, sprays (except medical inhaler), laser light/pointer/flashlight, perfume, roller blades/skates, pens and pencil, balloons, animals, syringe, flags (pole), radio, sporting balls, whistle/horn/laud hailers, promotional products, coins, firecrackers or weapons are not allowed and strictly prohibited inside the stadium due to security reasons.
The Organizer shall be entitled to seize any prohibited item without liability and without any obligation to return such items or to compensate the holder.
Do not throw around any missiles or such objects as fruits that can work as missiles inside the ground. Do not set waste paper and other combustible objects on fire inside the stadium.
Consumption of alcoholic drinks inside the stadium is strictly prohibited.
Management reserves the right to deny entry or expel a ticket holder for misbehavior.
Governing terms and conditions of promoters/venues/service providers will apply.
Don't lean against railings of galleries.
Obstructing the security personnel in discharge of their duties may lead to ejectment from the stadium.
R.C.A. accepts no liability arising from the cancellation or postponement of the event.
YOUR COOPERATION IN MAKING THIS EVENT SUCCESSFUL IS SOLICITED.
Related Post
ILT20 2023: Match 22 ADKR VS DC Fantasy Cricket, Abu Dhabi Knight Riders vs Dubai Capitals Preview, Live Streaming Details, Pitch Report, Weather Forecast, Squads, Probable XIs, And Dream11 Prediction

IND Vs NZ DD Sports Live streaming, Free TV Telecast & Broadcast, DD Sports DTH Channel Number for 2nd T20 LIVE

IND NZ Tickets: IND vs NZ Lucknow Tickets 2nd T20I EKANA Stadium – How to Book India v New Zealand Series, Lucknow Tickets Online, January 30, 2023