India vs Pakistan T20 World Cup Match:– Schedule, Timing, Date, Venue, Teams will be discussed over here. The opening match of ICC T20 World Cup 2021 will be between Pakistan and India. A cricket match between India and Pakistan is scheduled for October 24 at the Dubai International Cricket Stadium, Dubai.  India Vs Pakistan Match is the Pakistan's first Super 12 appearance. The Pakistani team will play a total of five matches during the super 12 round.  India vs Pakistan in Dubai on October 24 | The tournament starts on October 17; Super 12 begin on October 23 with Australia vs South Africa & England vs West Indies.
India and India constitute 90% of 1 billion cricket fans across the globe. How many fans to watch Tomorrow's India vs Pakistan T20 WC 2021 Match?

International Cricket Council
T20 World Cup 2021 Vote for IND vs PAK POLL
India vs Pakistan aside, another big-ticket encounter in this round includes England and Australia playing in Dubai on October 30. England and Australia are part of Group 1 in the Super 12s, along with South Africa, West Indies and two qualifiers from the first round of games. India and Pakistan are in Group 2, along with New Zealand, Afghanistan and two qualifiers.
India Cricket Schedule | Fixtures | Upcoming T20s Teams India Match Schedules: Get the India Cricket Team full schedule of T20s World Cup Matches, list of all upcoming matches of India Cricket Team cricket team in this tournament in IPL Blog (www.ipl.ae)
T20 World Cup 2021:
T20 World Cup: The 'India vs Pakistan' Super 12s Group 2 game at the men's T20 World Cup 2021 will be played on October 24 in Dubai. The date was confirmed as the ICC announced the tournament schedule on Tuesday. The tournament's first round kicks off on October 17 in Oman, with Oman taking on Papua New Guinea and Bangladesh playing Scotland.
Final Match of T20 World Cup: The final will be played in Dubai on November 14, with November 15 marked as a reserve day. The Super 12s – round two of the tournament, with two groups – will begin on October 23, with Australia facing South Africa in Abu Dhabi and England up against West Indies in Dubai.
Top Two Team of T20 World Cup: The top-two teams from the two Super 12 groups will play the semi-finals. The first on November 10 in Abu Dhabi and the second on November 11 in Dubai. Like the final, both the semi-finals will have reserve days.The tournament's first round features Sri Lanka, Ireland, Netherlands and Namibia in Group A, and Bangladesh, Scotland, PNG and Oman in Group B. Oman and UAE are co-hosts for the tournament, with the first round being played in Oman, Abu Dhabi and Sharjah.
The second round is spread around the three UAE venues of Abu Dhabi, Sharjah and Dubai.
ICC MEN'S T20 WORLD CUP SCHEDULE: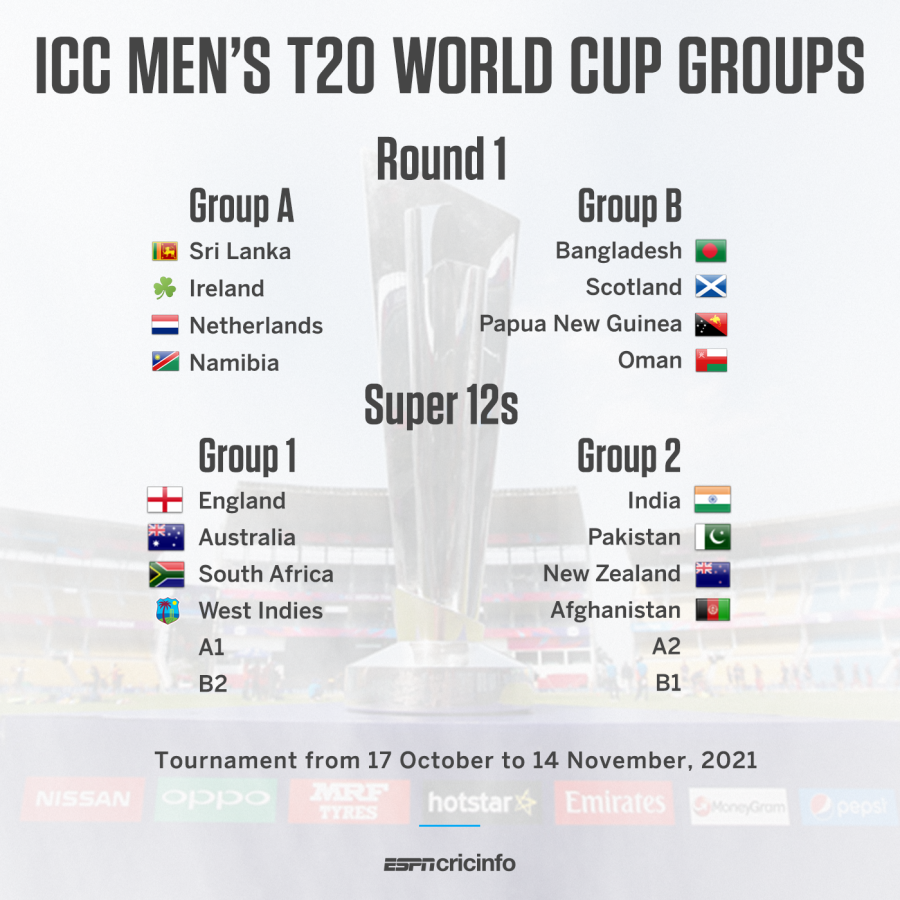 This will be the first time in over two years that India and Pakistan will play each other, their last meeting being at the 50-over World Cup in England in 2019. As has been the case often in the past many years, bilateral ties between the two countries are on hold because of political tensions, meaning they only face each other only in multi-team tournaments, like the World Cups.
This edition of the World Cup 2021 was initially scheduled to be held in Australia in 2020, but it was postponed because of the pandemic. Then, it was slated to be played in India this October but, again, complications triggered by the pandemic forced a venue change.
Incidentally, 2021 was also due to feature a T20 World Cup as per previous ICC schedules, and that second tournament will now to be played in Australia late next year.
Sammy tags West Indies favourites: Daren Sammy, the two-time T20 World Cup-winning West Indies captain who unveiled the schedule in a virtual function on Tuesday along with Dinesh Karthik and Isa Guha, told T20worldcup.com that he expected West Indies to grab the most attention at the tournament."When you look at West Indies – and I might sound a bit biased – in the last [three] tournaments we have managed to get to the final four, win in two out of that [2012 and 2016]," Sammy said.
"Our players, the calibre of players we have – when you look at captain [Kieron] Pollard, the universe boss Chris Gayle, Andre Russell, Jason Holder, Fabian Allen, Evin Lewis – I could go on… it's a long list of guys who can take the attack to you."

– Daren Sammy
But, in this stage, every team looking at the group stages would be thinking, 'Wow, you got to start well'. And I expect England and West Indies to come out of that group [Group 1 in the Super 12s]. [I predict that the team] that tops this group gets to the final."
Pakistan and India constitute 90% of 1 billion cricket fans: ICC research
Cricket has over one billion fans globally, with Pakistan and India alone constituting more than 90 percent of them, according to the first and largest ever market research into the sport conducted by the International Cricket Council (ICC).
Karthik said he expected Group 2 in the Super 12s to be highly competitive as well: "If five Asian teams come through and you have New Zealand there… that's a tougher group; I am looking forward to some high-octane action."It's going to be close call for me between Pakistan and New Zealand [with India being the other team to get through from Group 2 to the semis].
Also Read about T20 World Cup Schedule and New : Click Here
My heart says I would love to see a Pakistan there, but New Zealand find ways to always punch above their weight. They are a pretty well-rounded team with a great leader in Kane Williamson."
Whatever may be India Vs Pakistan match means – it is going to be one of the most watched match in Cricket as both are rivals in Cricket since 1990s.
Last Matches Between India Vs Pakistan with Result
Cricket World Cup 2019 Match : ODI 22 of 48 Match on 16th June 2019
India Won by 89 Runs ( DL Method) . Watch the highlights on below link
| | | | | | | |
| --- | --- | --- | --- | --- | --- | --- |
| Team 1 | Team 2 | Winner | Margin | Ground | Match Date | Scorecard |
| India | Pakistan | Pakistan | 85 runs | Kolkata | Jan 3, 2013 | ODI # 3315 |
| India | Pakistan | India | 10 runs | Delhi | Jan 6, 2013 | ODI # 3316 |
| India | Pakistan | India | 8 wickets | Birmingham | Jun 15, 2013 | ODI # 3372 |
| India | Pakistan | Pakistan | 1 wicket | Dhaka | Mar 2, 2014 | ODI # 3479 |
| India | Pakistan | India | 76 runs | Adelaide | Feb 15, 2015 | ODI # 3602 |
| India | Pakistan | India | 124 runs | Birmingham | Jun 4, 2017 | ODI # 3878 |
| India | Pakistan | Pakistan | 180 runs | The Oval | Jun 18, 2017 | ODI # 3894 |
| India | Pakistan | India | 8 wickets | Dubai (DSC) | Sep 19, 2018 | ODI # 4040 |
| India | Pakistan | India | 9 wickets | Dubai (DSC) | Sep 23, 2018 | ODI # 4044 |
| India | Pakistan | India | 89 runs | Manchester | Jun 16, 2019 | ODI # 4161 |
India Vs Pakistan Last 10 Match History
Pakistan Cricket Team Schedule Fixtures · Tomorrow · Tuesday, Oct 24 2021.
Related Posts