Ireland, Bangladesh Qualify for ICC Women's T20 World Cup 2023 – Here is the Qualifier Completet review
ICC Women's T20 World Cup Qualifier 2023: Bangladesh and Ireland qualify for 2023 women's T20 World Cup.
The 2023 ICC Women's T20 World Cup is scheduled to be the eighth edition of ICC Women's T20 World Cup tournament scheduled to be held in South Africa.
The 2023 ICC Women's T20 World Cup in South Africa is fast approaching. The dates are out, the venues nailed down, and the excitement around the tournament is building nicely. However, before we get to South Africa for the first game, there is the simple matter of identifying the final two teams who will make the trip there. That will be done over the course of the next week at the ICC Women's T20 World Cup Qualifiers in Abu Dhabi, where between September 18 to 25, eight teams will battle it out for that coveted prize.
Bangladesh and Thailand, who were part of the previous World Cup in 2020, will be joined by the five regional qualifiers —
Papua New Guinea (EAP),
Scotland (Europe),
United Arab Emirates (Asia),
United States of America (Americas) and
Zimbabwe (Africa)
The highest ranked non-winner, ie Ireland. The teams have been divided into two groups of four and will play each other once, with the top two teams from each group progressing to the semi-final. The winners of the two semi-finals will seal their place in next year's World Cup.
Final Result – Bangladesh and Ireland Won the Qualifier and entered into the T20 World Cup 2023.
Complete Preview about T20 World Cup Qualifier
The qualifiers played in 2019 saw Bangladesh and Thailand make their way to the World Cup in Australia in 2020. Therefore, both teams enter this tournament as favourites, but the likes of Ireland, Zimbabwe and Scotland will pose a huge threat.
Ahead of what looks like it's going to be a tightly contested tournament, here's a quick run through of the teams and what we can expect from each of them.
GROUP A
Bangladesh
Defending champions Bangladesh have been handed a bit of a blow on the eve of the competition with seam bowler and attack leader Jahanara Alam ruled out of the competition with a hand injury, and batter Fargana Hoque having tested positive for Covid-19. Alam will be replaced by her understudy, left-arm seamer Fariha Trisna who was part of the squad for the ICC Women's Cricket World Cup in New Zealand earlier this year, while Shohely Akhter has been named as Hoque's replacement.
The Nigar Sultana-led side have not played any international cricket since the pinnacle event this March and will possibly go into the Qualifiers slightly rusty. However, the group have had the opportunity to play some domestic T20 cricket back home and had several national camps in the lead up to this tournament. Despite the lack of international game-time, the experience within their ranks should see them qualify for the semi-finals.
As always, spin will play a massive role in Bangladesh's campaign with the likes of Salma Khatun, Rumana Ahmed, Nahida Akter, Fahima Khatun likely to spearhead the attack. Medium pacer Ritu Moni, who has a variety of slower deliveries up her sleeve will also be someone they rely on heavily with the ball. But Bangladesh's batting remains a concern. Power-hitting has been their Achilles heel for several years now, and with Fargana likely to miss a few matches, the likes of Nigar, Rumana, Murshida, and Shamima will be expected to do a bulk of the scoring.
In past qualifying events, conditions have often suited Bangladesh's slower bowlers. However this time around, it is expected that runs will flow (at least at the start of the tournament). If that is the case, it remains to be seen how a weakened Bangladesh will respond. Will they live up to the tag of favourites? Or will the qualifier queens finally be overthrown?
Key players: Salma Khatun, Nigar Sultana, Rumana Ahmed
The big group game: v Ireland
Captain speak: "I think in terms of experience and quality, we are right up there. The players have been together for a while and therefore the team spirit is excellent. I believe we are prime contenders to qualify for the main event, and there, the challenge is to live up to expectations. I am very confident in the capabilities of my team, but we have to play our natural game and be consistent."
Squad: Nigar Sultana (c), Sharmin Akter, Shamima Sultana, Fargana Hoque*, Rumana Ahmed, Ritu Moni, Lata Mondal, Salma Khatun, Sobhana Mostary, Nahida Akter, Murshida Khatun, Fariha Trisna, Fahima Khatun, Sanjida Akter, Marufa Akter, Shohely Akhter*
Ireland
Having missed out on the previous edition of the T20 World Cup in Australia, Ireland will be very keen to right the wrongs of the last qualifying event. They have, since 2019, introduced more contracts, extended the tenure of head coach Ed Joyce, found a group of promising fast bowlers and attacking batters, and played plenty more cricket.
Ireland have had a busy few months, playing against South Africa, Pakistan, Australia, Netherlands and Scotland before they reached the UAE. They look like a well-oiled unit and are led superbly by Laura Delaney who is the calm, composed leader in charge of a fairly young group.
The introduction of seamer Arlene Kelly — who played domestic cricket for Auckland in New Zealand — has further strengthened their line-up. The likes of Gaby Lewis, Leah Paul, Orla Prendergast and Cara Murray appear to have 'come of age' and are slowly becoming accustomed to the pressures of international cricket. They have shown plenty of promise in the lead up to the tournament and Ireland will thus be expected to sail into the semi-finals.
Key players: Gaby Lewis, Orla Prendergast, Eimear Richardson
The big group game: v Scotland
Captain speak: "I think the biggest challenge for us will be playing in these conditions. The weather here is quite different to what we're used to in Ireland, high temperatures and humidity. The majority of the team have never played under lights, we have two games under lights so that will also be a good challenge."
Squad: Laura Delany (c), Rachel Delaney, Georgina Dempsey, Amy Hunter, Shauna Kavanagh, Arlene Kelly, Gaby Lewis, Sophie MacMahon, Jane Maguire, Cara Murray, Leah Paul, Orla Prendergast, Eimear Richardson, Rebecca Stokell, Mary Waldron
Scotland
Winners of the European Qualifiers, Scotland's squad has a very familiar feel to it. The Bryce sisters, Kathryn and Sarah, are the superstars within the line-up and will need to do much of the heavy lifting with the bat. They have, however, found some support in the form of their newest recruit, Saskia Horley. The right-hand batter, who previously played domestic cricket in Australia, made her debut for Scotland in their last series against Ireland managing over 90 runs in two innings. At only 22, her calming presence in the middle order will take the pressure off the Bryces, hopefully allowing them to play with a sense of freedom at the top.
In the qualifying event in Spain, it was Scotlnd's bowlers who really stood out. The spin duo of Abtaha Maqsood and Katherine Fraser combined to dot down the opposition in what were very slow conditions. The European champions will hope they can play a similar role in Abu Dhabi as well. The pace group, consisting of Kathryn, Megan McColl, Katie McGill, Priyanaz Chatterjee will keep the batters honest, consistently attacking the stumps. If conditions play in their favour, the Scots could be a handful. However, their lack of international cricket in recent times, could prove to be costly.
Key players: Kathryn Bryce, Sarah Bryce, Katherine Fraser, Saskia Horley
The big group game: v Ireland
Captain speak: "I think this team's strong point has always been the strength in our bowling with fantastic spinners in Katherine Fraser and Abtaha Maqsood, but we have also really developed strength and depth in our batting line up, that can win us games of cricket."
Squad: Kathryn Bryce (c), Sarah Bryce, Abtaha Maqsood, Abbi Aitken-Drummond, Ailsa Lister, Katherine Fraser, Kathleen McGill, Priyanaz Chatterji, Lorna Jack, Megan McColl, Ellen Watson, Hannah Rainey, Olivia Bell, Saskia Horley, Rachel Slater
United States of America
The lowest ranked and least experienced team in the group, there is a quiet sense of confidence around this young USA squad. Although they go into the tournament without left-arm seamer Tara Norris and one of their most experienced batters, Shebani Bhaskar, there appears to be a real expectation and excitement within the squad. Maybe it's the fearlessness that comes with youth? Or maybe it's the exposure several of their players have gotten over the last few months? Whatever it is, if USA are able to hold their nerve, they could cause on upset on a good day.
However, their batting looks bereft of power. With the omission of Bhaskar and Norris and the injury to young Gargi Bhogle, the line-up will now rely heavily on the contributions of skipper Sindhu Sriharsha. The teens around her — Anika Kolan, Lisa Ramjit, Mahika Kandanala, Disha Dhingra, Snigdha Paul — will bring the intensity between the wickets and a sense of inventiveness, but when the team is under the pump, it is Sriharsha's experience they will turn to.
It is in the bowling and fielding departments that USA could prove to be particularly tricky customers. Young Geetika Kodali, elevated to the position of vice-captain, will spearhead the attack alongside Suhani Thadani, Paul and Isani Vaghela. Fresh legs in the field mean they will throw themselves around and chase balls down as if their life depends on it. If the opposition aren't careful, those efforts could result in wickets. And on a good day, it could lead to positive results for Sriharsha and co. (just as it did in their final game of the quadrangular series).
While finding a place in the top four may be a slightly beyond their reach at this point, the tournament will prove to be a massive learning experience for the younger members of the group — something they will hold close to their hearts with an Under-19 World Cup on the horizon.
Key players: Sindhu Sriharsha, Geetika Kodali, Suhani Thadani
Sindhu Sriharsha plays a cover drive. (ICC)
The big group game: v Scotland
Captain speak: "The main theme of the tournament has been to be adaptable. The team has been committed and showing progress. We have trust in our training and preparations leading up to this Qualifier and believe we can stand up to any challenge we face."
Squad: Sindhu Sriharsha (c), Geetika Kodali, Anika Kolan, Bhumika Bhadriraju, Disha Dhingra, Mahika Kandanala, lsani Vaghela, Lisa Ramjit, Sai Tanmayi Eyyunni, Preeti lyenger, Ritu Singh, Snigdha Paul, Suhani Thadani, Taranum Chopra, Yashaditi Teki.
Group B
Thailand
After a thrilling show in the 2020 edition of the T20 World Cup in Australia, Thailand have now become the sweethearts of the cricketing world. A fast-improving team who have, in many ways, been the shining example of what investment and smart planning can do for a team, for the first time in their careers, Thailand will go into a global event with the spotlight firmly on them.
As always, it is Thailand's bowling and fielding that are seen as their strengths. One of the most tactically astute teams, they will look to squeeze opposition batters with their strong spin attack led by Nattaya Boochatham, Suleeporn Laomi, Onnicha Kamchomphu, Sornnarin Tippoch and the left-arm sensation Thipatcha Putthawong.
With the bat, Nattakan Chantham is their superstar. However, the emergence of Chanida Sutthiruang as a powerful batting option has added some power and depth to what was otherwise seen as a very top-heavy line-up with Boochatham, Chaiwai, and Nannapat Koncharoenkai playing the role of able supporting acts.
In the lead up to the tournament, Thailand spent several weeks training and playing matches in India, formulating new game-plans, trying out different combinations and getting some much-needed game-time under their belts. They arrived in Abu Dhabi early and participated in a quadrangular series (involving Zimbabwe, USA and UAE) where they finished second.
The expectations at the start of the tournament are that Thailand will be one of the teams to make their way to South Africa. But will they be able to handle that pressure?
Key players: Nattaya Boochatham, Nattakan Chantham, Chanida Sutthiruang
The big group game: v Zimbabwe
Captain speak: "Our team's objective is to win the tournament. We are a strong unit and have great teamwork and everyone will contribute to our success."
Squad: Naruemol Chaiwai (c), Nannapat Khoncharoenkai (vc/wk), Nattaya Boochatham, Chanida Sutthiruang, Natthakan Chantham, Sornnarin Tippoch, Onnicha Kamchomphu, Suleeporn Laomi, Rosenanee Kanoh, Thipatcha Putthawong, Phannita Maya, Suwanan Khiaoto, Aphisara Suwanchonrathi, Sunida Chaturongrattana, Nanthita Boonsukham
Zimbabwe
Zimbabwe have enjoyed an extensive period of preparation leading into these T20 World Cup Qualifiers. They began with a tri-series in Namibia, then enjoyed an 18-day stint in India where they played matches against several local teams before heading to South Africa for a five-match T20 series against their Emerging side and then playing a quadrangular series in Abu Dhabi. The Mary-Anne Musonda-led side have registered series win across all four tours, making them one of the form teams in this group.
Having missed the 2019 qualifiers because of an ICC suspension, the players are hungrier than ever to prove their worth to the world. They are eager to qualify for what would be a home (Africa) World Cup for them and know they have the ability and experience to get over the line. With a new coach, Gary Brent, at the helm, the side are more aware of their strengths, have more clarity around their roles and know how they need to play to get where they want.
On paper, Zimbabwe have what could be termed as the most powerful batting line-up in the competition. With Sharne Mayers at the top, Chipo Mugeri-Tiripano, Mary-Anne Musonda, Modester Mupachikwa and Precious Marange to follow, they have boundary-hitters scattered through the order. It a strength they will hope to capitalise on in what are likely to be batting-friendly conditions. With the ball they have plenty of variety, beginning with the left-arm seam of Nomvelo Sibanda, the pace of Esther Mbofana and Josephine Nkomo, the off-spin of Loryn Phiri and Loreen Tshuma and the left-arm "mystery spin" of Kelis Ndhlovu.
Recent form and team strengths suggest that Zimbabwe should make it to the final four. Once there, it will be all about how the hold their nerve.
Key players: Sharne Mayers, Chipo Mugeri-Tiripano, Mary-Anne Musonda, Josephine Nkomo
The big group game: v Thailand
Captain speak: "Our team's objectives at the tournament are mainly to apply ourselves and go through our processes thoroughly while taking each game as it comes. We want to qualify for the World Cup, but we understand that getting there will take us managing all moments as they will come in each game. We want to play a brand of cricket that we have been playing in the last couple of months, which is playing with freedom and being brave. All the other finer aspects in each department sort of take care of themselves."
Squad: Mary-Anne Musonda (c), Modester Mupachikwa, Kelis Ndhlovu, Sharne Mayers, Josephine Nkomo, Precious Marange, Christabel Chatonzwa, Loreen Tshuma, Loryn Phiri, Nomvelo Sibanda, Esther Mbofana, Pellagia Mujaji, Audrey Mazvishaya, Chipo Mugeri-Tiripano, Francisca Chipare
United Arab Emirates
Winners of the Asia qualifiers, hosts UAE are the dark horses of Group B. A young group of players with plenty of talent, they will be heavily reliant on the batting trio of Esha Oza, Theertha Satish and Kavisha Egodage, all of whom participated in the FairBreak Invitational tournament earlier this year. UAE will be without their stalwart and batting backbone Chamani Seneviratne, who was one of the stars of that Asia qualifier. Without her, the onus falls on Oza, who has two T20I centuries to her name including a mammoth 158 not out that came against Bahrain earlier this year.
UAE have played as many as 18 T20Is this year, winning three out of four series at the start of the year. Most recently, they faced Thailand, Zimbabwe and USA in the quadrangular series earlier this month losing all three of their matches to finish last.
While the loss to a young USA team would have irked them so close to such a massive tournament, Chaya Mughal will have to lift her team and make sure they are able to turn their form around. They will have the advantage of playing at home in front of a vocal crowd. So they will have support to fall back on.
Although there are worries with the bat, UAE's strength lies with the ball. Led by the canny Mughal, they also have the pace of Khushi Sharma, the spin of Oza, Egodage and Vaishnavi Mahesh whom they will rely on to pick up wickets.
Drawn in a pool with two form teams, UAE will have to play out of their skin to topple one of them and make the semi-finals. If their bowling clicks, they have a chance, but truth be told, it will be an against the odds achievement.
Key players: Esha Oza, Chaya Mughal, Kavisha Egodage
The big group game: Thailand
Captain Speak: "We Have Been Preparing And Working Really Hard Despite The Weather Being Extremely Hot. Our Outdoor Centre Wicket Practice And Match Simulation Is Something That Is Really Helping Us At Present. Clearing The Boundary Ropes Is Something That We Have Been Focusing On And We Will Be Utilizing That In The Coming Games."
Squad: Chaya Mughal (c), Natasha Cherriath, Samaira Dharnidharka, Kavisha Egodage, Siya Gokhale, Priyanjali Jain, Lavanya Keny, Suraksha Kotte, Vaishnave Mahesh, Indhuja Nandakumar, Esha Oza, Rinitha Rajith, Rithika Rajith, Theertha Satish, Khushi Sharma
Papua New Guinea
PNG played their last international on 7 September 2019. So, when they finally take the field on Sunday (against Zimbabwe), it will be after a gap of 1,106 days.
Having reached the semi-final of the previous qualifying event in 2019, PNG may find it hard to replicate those highs after such a long hiatus. Their only international (match) preparation that we know of came via two warm-up matches against Ireland where they largely struggled to keep pace with their opponents.
What set PNG apart in 2019 was their attacking intent in the field — players breathing down the batters' neck, diving around, cutting off singles and making scoring even harder on damp surfaces. If they are able to pull off something similar in this tournament, their opposition could be in for a scare.
While there is little doubt of the talent within the unit — the likes of Sibona Jimmy who shone in the previous event, skipper Kaia Arua, seamer Ravina Oa, wicketkeeper-batter Brenda Tau and Tanya Ruma — the lack of game-time could come back to bite them. If they were to beat even one of the teams in their group, it would be seen as a massive win considering what has passed over the last couple of years.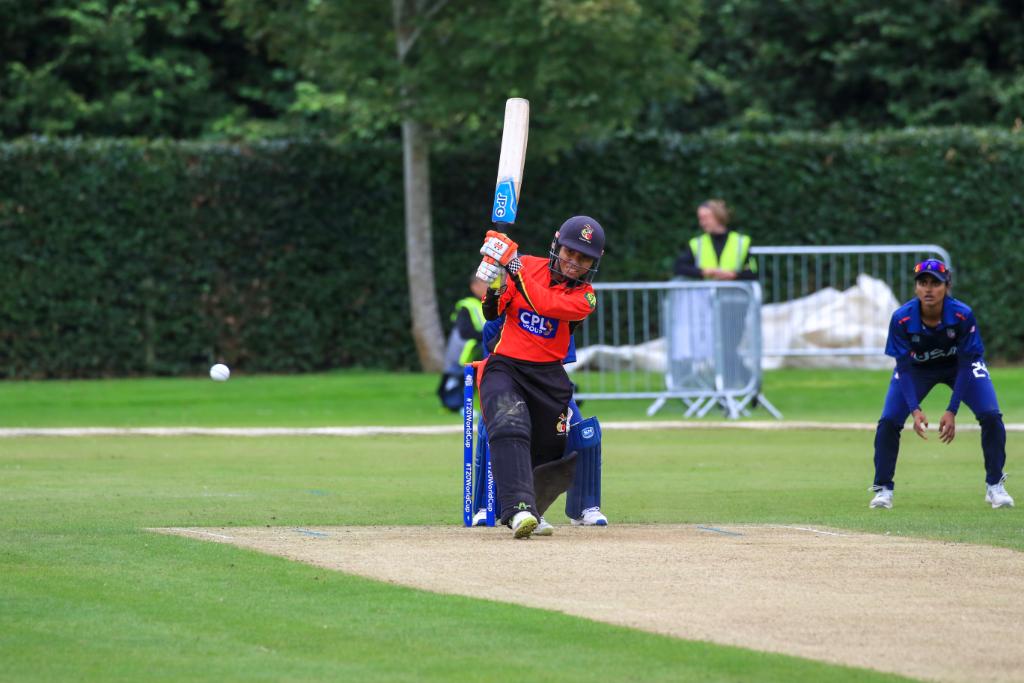 Sibona Jimmy was a standout for PNG in the 2019 qualifiers. (ICC)
Key players: Sibona Jimmy, Brenda Tau, Kaia Arua
The big group game: v UAE
Captain speak: "This will be a very challenging tournament for us as we've been away from playing international cricket for almost three years due to COVID-19. But we have been training and are looking forward to playing in this tournament and hopefully qualifying for the World Cup."
Squad: Kaia Arua (c), Melanie Ani, Vicky Araa, Hollan Doriga, Kevau Frank, Veru Frank, Sibona Jimmy, Ravina Oa, Tanya Ruma, Pauke Siaka, Brenda Tau, Henao Thomas, Mairi Tom, Isabel Toua, Naoani Vare